Sondra for Sandy Fundraiser on LBI (August 30, 2013)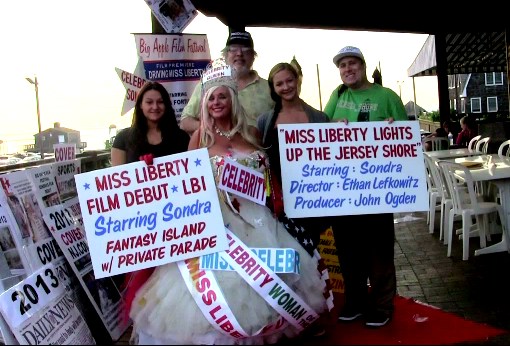 Ethan covers Fantasy Football with Miss Liberty USA (August 18, 2012 in Atlantic City)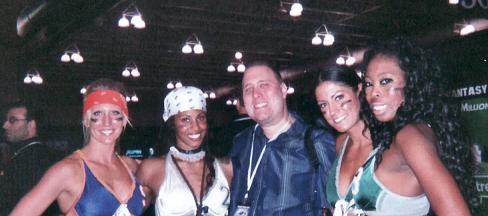 The Longerie Football League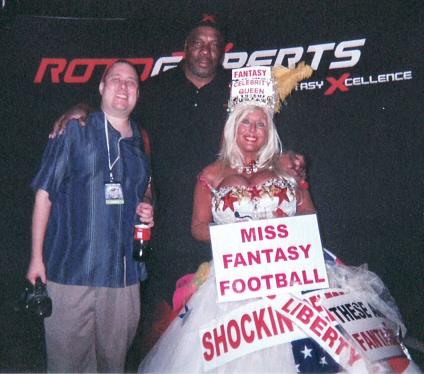 Ethan, Byron Hunt (NY Giant) and Sondra
A Vaudeville Tribute to Joe Franklin
May 6, 2012 at The Darress Theater in Boonton, NJ
---
Oscar Party at the Iguana Restaurant in NYC sponsored by the Big Apple Film Festival and the One Apple Music and Art Productions. A good time was had by all!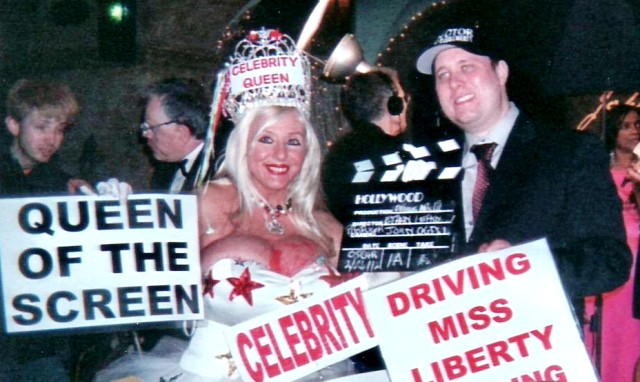 Oscar Night in New York City
Ethan is invited to walk the Red Carpet for directing Driving Miss Liberty, starring Sondra Fortunato (Miss Big Blue for the New York Giants)
February 26, 2012 at 5:50 PM upstairs at the Iguana Restaurant.
Driving Miss Liberty Trailer
Joe Franklin: "Regular Joe" to Broadcasting Legend will be featured at The Tank Theater in NYC on Saturday, Decemer 3, 2011 at 3:00 PM. Tickets can be ordered online or pay cash at the door. Joe Franklin plans to be there to meet his fans. This film is about Joe Franklin's life in show business and features many celbrities. It is hosted by Esther Mills and is directed by Ethan Lefkowitz.
The New York Premier of Joe Franklin: "Regular Joe" to Braodcasting Legend was a hugh success! The house was packed at The Tank Theater and the audience loved the film. Everyone was thrilled that Joe Franklin was there to speak and answer quetions from the audience. We all had a great time. DVDs of this production can be ordered from Chip Taylor Communications at http://www.chiptaylor.com/ttlmnp5516-.cfm
Comments:
"First of all, congratulations on a tremendously successful event! I was unfortunately stuck at work (the day job sort of blew up yesterday) and to be honest am devastated that I had to miss the show. Once in a while I get the chance to curate something into the theatre that I am really excited about, and this was one of those times. I had purposely not watched the entire screener, planning to watch it for the first time with the audience for the full experience, not to mention meeting Joe, who my family and I have been a fan of since as long as I can remember. Outside of The Tank, I am a host of a weekly radio program, and would have really liked to have gotten the chance to speak firsthand to such a huge figure in broadcast history.
Again, congratulations and thank you so much for bringing this to The Tank, and please let me know if there are any other projects that you, or any of your colleagues are considering presenting, and I will help however I can."
Driving Miss Liberty will be featured at The Big Apple Film Fesival
in New York City on November 2, 2011 in Theater 2 at 10:00 PM.
This film is directed by Ethan Lefkowitz, and stars Sondra Fortunato.
It is produced by John Ogden of Mantusk Productions.
Please join us for a fun time!